STEP 1: OPEN SELLER CENTRAL
The first step to starting your Amazon seller account is going to be going to Seller Central. You can do this by clicking on the Seller Central icon in your toolbar. Your account can be considered an Amazon reseller account if you are in the business of arbitrage or dropshipping.
You will be asked to fill out the following information:
Business location
Business type
Business name
Company registration number
Registered business address (verifiable)
Phone number (verification)
Primary contact person
STEP 2: PROVIDE YOUR SELLER INFORMATION
Amazon has to know all the relevant information about you and confirm your identity before they allow you to sell on their platform. This is for purpose of security and customer protection.

The information that will be asked from you includes:
Country of citizenship
Country and date of birth
Proof of identity with the expiration date and country of issue
Residential address
Mobile phone number
STEP 3: FILL UP BILLING INFORMATION
Amazon is an online marketplace that allows you to sell goods. When you sell on Amazon, you receive payment for goods sold, and you pay a fee to be on the platform. This is why you provide both a bank account where money can be deposited and a credit card where fees can be charged.
STEP 4: CREATE YOUR STORE
Now that you have completed the first three steps of the Seller account setup, you will be in the process of providing marketing information for your e-commerce store.
In this process, the following questions would be asked:
Do you have Universal Product Codes (UPC) for your products?
Are you the manufacturer or brand owner?
Do you have government-registered trademarks for the branded products you plan to sell?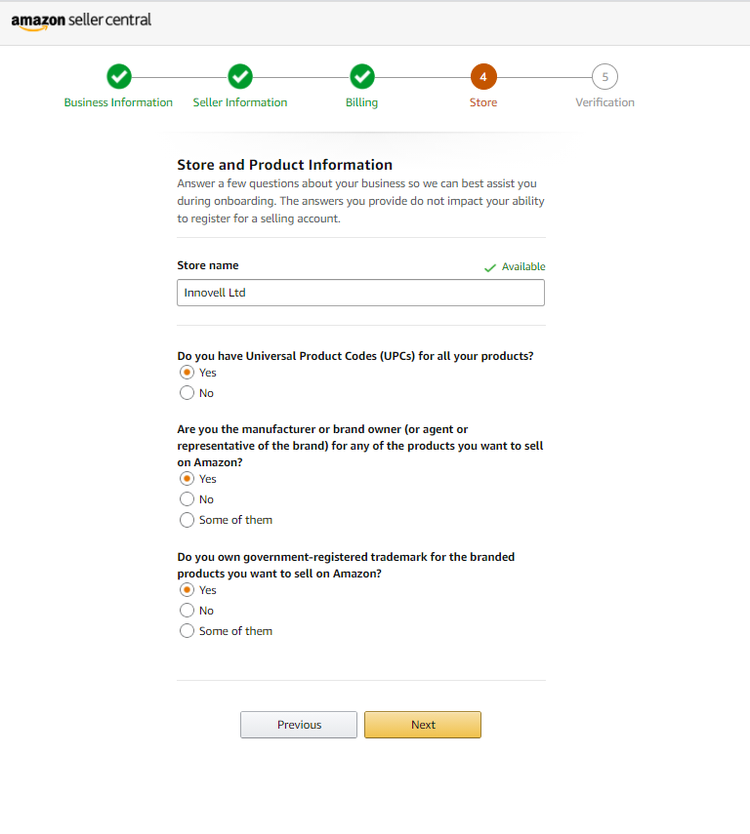 STEP 5: CREATE YOUR STORE
Congratulations! You've reached the final stage of the process, where you'll need to upload a copy of your identity document as well as documentation for your bank account. Once these elements have been submitted, all you can do is wait for Amazon to get back to you by email to confirm the creation of your Seller account.
It's important at this point to be aware of what happens next. If everything goes well, Amazon will create an account for you and send you an email with the link to access it—you can then log in, verify your identity and start selling!
START SELLING WITH OUR TEAM NOW!